At Oak Creek, we provide a caring, comfortable home that allows you to feel relaxed, safe and truly part of a family. Our friendly, considerate staff are on duty 24/7 to offer services that help ensure you are taken care of medically, physically, and emotionally.We get to know you – being part of a small, quiet and calm community allows us to give personalized
We get to know you – being part of a small, quiet and calm community allows us to give personalized attention to your needs. From medical needs down to the type of coffee you like, we tailor a care plan to the individual, designed around your interests to maintain your overall well-being.
See more about our services and amenities below, or contact us now for more information.
Medical Services
At Oak Creek, our knowledgeable staff is always available to help you stay healthy and vibrant. In-house services and equipment combined with on-call nursing and medical expertise allow our residents to be confident that their medical needs will be safely managed.
Medical services provided include:
Medication monitoring and management
In-house Physician services
Pharmacy services
On-site lab and portable X-ray
Physical, occupational and speech therapies on-site
Scheduling and transportation for medical appointments (HCBS/Medicaid only)
Diabetic monitoring and treatment
Lifestyle Services
A healthy, balanced life is more than just a safe place to live. We offer a wealth of services and amenities that allow our residents to sustain an active life. From food to bathing, spiritual needs to appearance, our staff works hard to keep you feeling happy and vibrant.
Lifestyle and well-being services include:
Balanced, home-cooked meals 3 times a day
Activities of Daily Living (ADL) assistance
Certified Aging Specialist services
Podiatry services
Chaplain services
On-site haircuts
Daily scheduled activities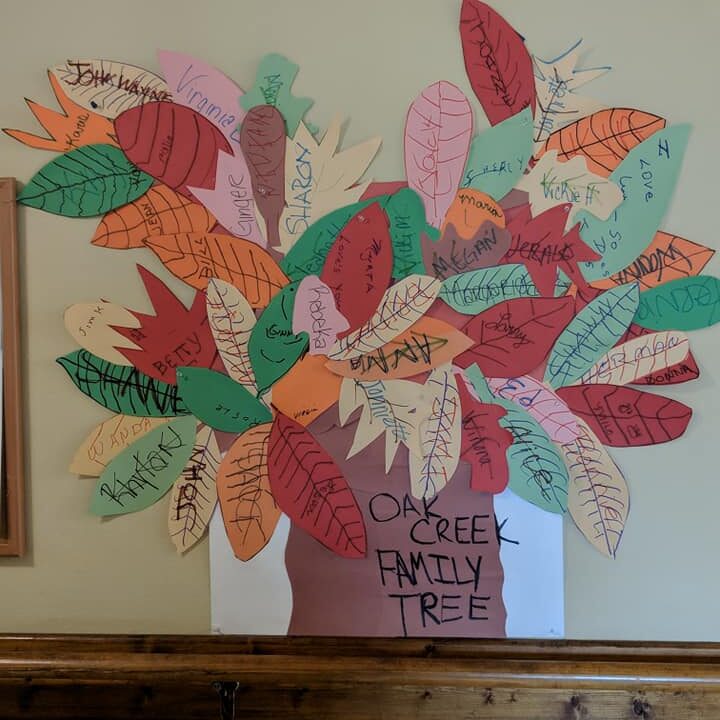 Facility Services
Oak Creek prides itself on maintaining a clean, quiet and secure atmosphere for its residents. With several different floor plans available to suit your needs, our senior living options come with plenty of amenities to ensure your residence with us is as close to living at home as you can imagine.
Our facility offers:
24-hour-a-day friendly and caring staff
Basic cable
All utilities (except phone)
Mail delivery and pick-up
Call lights in rooms and bathrooms
Emergency lights and fire system
We are here for you ...
Find out more about how Oak Creek will care for you or your loved one.